Summer 2015 Anime Preview
So it has definitely been a while since I've done a post; especially a season preview. While I've only been following a few anime for each season for the past two years, I felt that recently things haven't been all that exciting. The last two years have produced nowhere near as much buzz as say years like 2011 and 2012, but even so there is always hope for series to come.
In that respect, the Summer 2015 anime season offers up some potential gems. There are definitely a few series that look interesting enough because of their source material, studio or staff. On the other hand, the series that may be more anticipated are the sequels, of which there are many and with some returning for the third season.
I'll try to cover every summer 2015 anime, with the exception of sequels that I know nothing about. So without further ado, here are next season's anime!
Akagami no Shirayuki-hime
[Studio: Bones Source Material: Manga]
Premise: A romance with a Western fairy tale drama setting involving princes and Snow White (Shirayuki-hime).
Thoughts: I find myself both intrigued and unexcited for this series. On the one hand, Bones is a studio that tends to put high-quality works; their 2014 offerings weren't incredible but, the studio has more hits than misses in my book. That fact, coupled with Zetsuen no Tempest's director gives the series a good team.
The manga itself also appears to be decent. It runs in Hakusensha's LaLa magazine alongside Natsume's Book of Friends and Skip Beat!, so we can more or less assume the manga is of a high enough quality to receive an adaptation. Nevertheless, my lack of (real) interest persists and stems from shojo romance fatigue.
Since the end of 2012 there has been a steady stream of enjoyable shojo romances/romantic comedies and that has made me a little tired of the genre. Dampening my interest further is Ore Monogatari!!'s second cour, which I'll probably enjoy more. Bearing all of that in mind, the anime is still worth a look:
Anticipation Level: Medium - The abundance of shojo romance series in recent years lowers expectations.
Aoharu x Kikanjuu
[Studio: Brain's Base Source Material: Manga]
Premise: Survival games with pretty boys and a female lead in drag.
Thoughts: If there's one thing Brain's Base has been doing recently, it's picking offbeat source material to adapt. This was a painful exercise when they decided to try their hands at adapting otome games, but as of late it has produced some nice series like Kawai Complex, Isshukan Friends and the currently airing Kyoukai no Rinne.
In that respects Aoharu x Kikanjuu could end up succeeding. Skimming the first two chapters of the manga, you could see elements of comedy being mixed in and that could provide some entertainment to an otherwise overused plot setting. Can pretty boys and humour make this series great? Unlikely. That said, if done well, it should at least be fun to watch.
Whether it'll be done well is hard to predict. Hideaki Nakano is making his debut as director after having worked in different capacities for various Brain's Base productions, so we don't really know what to expect from him. Luckily, the script and series composition will be handled by Kenji Konuta, who has a proven record of adapting manga works and who was in charge of works like Toshokan Sensou and Blood Lad.
Anticipation Level: Medium - The premise and setting is generic, but a good writer has been attached to adapt the manga.
Aquarion Logos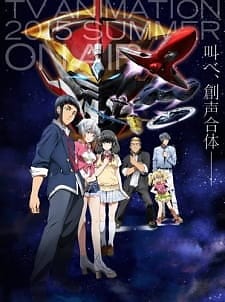 [Studio: Satelight Source Material: Original/Aquarion Franchise]
Premise: I'm guessing more of the same from Aquarion...
Thoughts: I remember when Aquarion EVOL came out a few years back and I tried to watch it - unfortunately that didn't last long. As someone who has never really had much love for mecha anime in general, the series didn't resonate. Even so, I did decide to give it another try but after finding out that there was a lot of prequel material - which, I was told could be skipped - I decided to put my plans to watch it on indefinite hold.
My guess is that watching the previous Aquarion series' and OVAs isn't a requisite to watch this upcoming addition to the franchise. From what I remember, the poster doesn't seem to include any of the EVOL cast and since watching the original wasn't required to follow EVOL, I'm willing to bet that the same rules apply here.
From a production point of view, fans shouldn't be disappointed. Satelight is still handling the franchise and EVOL's director will be heading up this series as well. The writer is new to the studio and series, but his resume doesn't raise any immediate concerns.
Anticipation Level: None - Not a follower of the franchise and not big on mecha anime in general.
Chaos Dragon: Sekiryuu Senyaku
[Studio: Silver Link Source Material: RPG/Light Novel]
Premise: Fantasy war story.
Thoughts: No other anime this upcoming season has quite the interesting origin story. It was originally a RPG created in by a group which included Gen Urobuchi and then it spawned a light novel series based on the game. That alone has sparked some interest for me, given that Silver Link as a studio has not been a favourite of mine.
Putting the source material to one side, the staff does little to generate hype for the series. The script writer is the capable Shou Aikawa, whose resume is certainly impressive - UN-GO, FMA, Eureka Seven AO - but the other main staff roles are filled by newcomers. The director is making his debut and has only an assistant director credit on an OVA series to his name, while series composition is being handled by the scriptwriter for the next Naruto movie.
Whether the story is interesting is also another unknown. It could end up surprising me if it makes good use of the war plot, but I'm not about to hold my breath. If it is done well, this could make for an entertaining watch.
Anticipation Level: Low-Medium - Studio and staff give me pause but a good fantasy war series could be good.
Charlotte
[Studio: P.A. Works Source Material: Original]
Premise: Esper school slice-of-life
Thoughts: Admittedly, P.A. Works is not my favourite studio. Their works tend to fall flat for me, and whilst they have put out some recent works that I've really enjoyed - Uchouten Kazoku and Shirobako - I usually end up ignoring their anime. What's more, they are putting out a series with an overused story setting: teenagers with ESP.
Adding to my lack of interest is the presence of the noted Jun Maeda. His drama-heavy plots have made him quite polarizing, with a good number of bloggers mostly making fun of him while a good percentage of anime viewers have a soft spot for him. I don't hold contempt for the man, but needless to say that his work hasn't made me a fan. In any case, he should be the bigger presence in the series since the director doesn't have much of a record.
All in all, I don't see myself watching this series. It would take a very impressive first, second and third episode for me to even consider seeing it to the end.
Anticipation: Low - Not my type of story, not a big fan of the studio and not a fan of the writer.
Classroom Crisis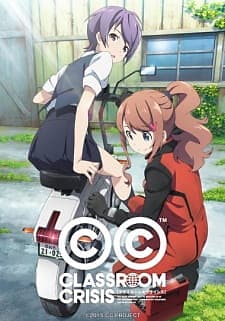 [Studio: Lay-Duce Source Material: Original]
Premise: Slice-of-life romantic comedy centred around work in the distant future.
Thoughts: This yet another original series, but unlike Charlotte this one is difficult to gauge. The studio itself has only two other projects to their name, with only one of them being serious - even though Magi: Sinbad no Bouken is only an OVA. The director Kenji Nagasaki has No. 6 as his only directing credit; a series that was quite underwhelming. Even so the involvement of Fumiaki Maruto raises my interest a little. He is the original creator of White Album 2 and also handled the series composition for the anime, which got very good reviews and made me put the series on my backlog. Now it is unlikely that his presence will make this a good anime but he might add something to the series.
Putting aside the staff and studio. the story itself could be entertaining. For one it's refreshing to have a romantic comedy or slice-of-life not set in school, and I do want to see how they make use of the work aspect of the plot. That by itself could make the series a more enjoyable watch. The futuristic part of the setting is what worries more, as it usually ends up taking over the story to no success.
As I said, hard to gauge. I don't think it'll be a hit or necessarily good but it has potential to be an enjoyable watch.
Anticipation Level: Low - Despite some potential, the studio and director make it hard to put more faith in the series.
Durarara!!x2 Ten
[Studio: Shuka Source Material: Light Novel]
Premise: The Ikebukuro gang re-involved in the supernatural and absurd.
Thoughts: For you anime neophytes, take notice. This is one series that I include in my must-watch list alongside Baccano! - written by the same author - and is an example of an anime with a big cast done right. The first season aired in 2010 and this is the second of three cours of a second season airing until March 2016.
I have yet to see the first cour of the second season, and unfortunately I have not been hearing good things; for a lot of people, the original magic just isn't there. Now that might be an overreaction given that the first cour of the second season still received decent-to-good reviews overall. It just might be the case that a sequel which came five years after the first season was never going to recapture the magic in its entirety. Or perhaps a good number of the fans got older and developed new tastes.
Whatever the case, I'm still committed to powering through the first cour in the next few days so I can watch this cour. Seeing as how the director and series composer both worked on the original anime and both possess stellar resumes and the fact that the studio is essentially a break-away of Brain's Base, I remain positive. Furthermore, given the lack of closure one usually gets from watching Brain's Base series, I am planning to see this story to the end.
Anticipation Level: High - Undeterred by the less exceptional reviews of the first cour and hoping to get through it before July.
Gakkou Gurashi!
[Studio: Lerche Source Material: Manga]
Premise: School life club...
Thoughts: Without spoiling too much, I would advise people to not pigeonhole this series into just one of many "cute girls slice-of-life" series. If you've so much as skimmed the first chapter of the manga, you already know what I'm talking about, but it's okay if you have decided to just watch the first episode before passing judgement.
In all honesty, the manga is the biggest reason that I at least watch the first episode of this series. Lerche's works have not resonated with me, but dare I say they have gotten better in quality and this season the studio landed another anime in the noitaminA slot, which I'm hoping suggests their move to become edgier is not passing fad - they started the year off by adapting Assassination Classroom after all.
What does worry me a little is the staffing of the series. Director Masaomi Ando is fresh of the well-received White Album 2, but MAL suggests that four different people are involved in writing the script alongside the original creator of the series (he'll also handle composition). The writers seem to come from similar backgrounds - two have written Fate related novels, another wrote the Steins; Gate novel, and the last guy is doing composition for Chaos Dragon - and this all seems to mesh with the mangaka's own background. He himself has worked on composition for anime and has written Gargantia and Robotics; Notes novels.
If the writers can work well together, we may be in for a surprise and a potential sleeper candidate. If they can't do that, this anime will quickly devolve into a messy affair.
Anticipation Level: Medium - The arrangement for the scriptwriting is the most worrying aspect of this project.
Gangsta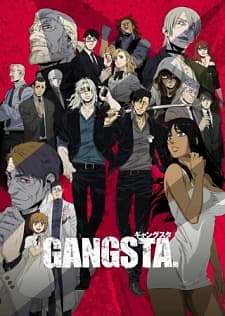 .
[Studio: Manglobe Source Material: Manga]
Premise: Grimy, crime-filled city where to men make a living through sordid means.
Thoughts: After essentially taking 2014 off, Manglobe are bringing out an adaptation that indulges their more adult side, something they are adept at doing. Let's not forget, this is as much the studio of Samurai Champloo, House of Five Leaves and Michiko to Hatchin as it is the studio of Hayate the Combat Butler and The World God Only Knows.
Bringing on Ergo Proxy director Shukou Murase is certainly an interesting choice, given that he's done almost nothing since then. And yet, it acknowledges the type of director you need to have on board to really bring to life such a gritty manga. I myself have had the series on my backlog for some time now, and have heard plenty of good things about it. Enough so, to know it is one of the best source material being adapted this season.
Not much to worry about with this one. It should be done well, and Manglobe is a good studio despite the bum rap it gets from quite a number of people.
Anticipation Level: High - Good source material, director and studio.
Gatchaman Crowds Insight
[Studio: Tatsunoko Productions Source Material: Original Reboot]
Premise: Hajime and Co. are back for more intergalactic trouble.
Thoughts: While I enjoyed the first season of Gatchaman Crowds, I was a little disappointed with the series as a whole. It was one of the most highly anticipated series of the Summer 2013 Season and it didn't quite live up to expectations. There were no big problems, but rather a spattering of minor issues that added up. Of course there were some exceptional moments during the series and looking at it as a whole, it was a good watch.
It's the same director and writer; so there shouldn't be anything to worry about. Tatsunoko Productions as a studio may have suffered a hit to their ego and reputation recently after their other old-school reboot, Yoru no Yatterman, didn't get much love but that's not too relevant. It probably won't stop them from considering more reboots of classics but it may have given them a dose of reality.
I certainly hope this season will improve on the first one, whilst retaining the exciting action sequences and beautiful animation style. One last thing: an Episode 0 has already aired on Hulu.
Anticipation Level: Medium-High - Some lingering disappointment from season one dampening my enthusiasm.
Gate: Jieitai Kanochi nite, Kaku Tatakaeri
[Studio: A-1 Pictures Source Material: Light Novel]
Premise: Fantasy world crossover, with otaku lead
Thoughts: After being kept busy with various projects this spring, A-1's new series this season is playing it pretty safe. It sounds exactly like the type of anime you'd expect from Sword Art Online's studio and therein lies the problem. Now of course the studio has been busy putting out anime - many of which are two-cour - at an elevated pace and thus could be running low on energy. That is understandable, but this really feels like them phoning it in.
The story looks too much like SAO, even if there is a clear difference in the setting. As such the director isn't a well known entity and unsurprisingly it's the series composer who has the more impressive resume. That at least signals the desire to adapt the light novel well and probably in its entirety (there are only 5 volumes after all). Other than that, there isn't much else to get excited about.
I'll most likely be skipping this one.
Anticipation Level: Low - Not in the mood for another SAO-esque series.
God Eater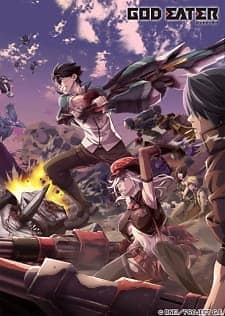 [Studio: ufotable Source Material: Game]
Premise: Monsters vs Humans in 2071.
Thoughts: Looks like ufotable will finally be adapting something that doesn't have Fate in its name. While production on Girls' Work has yet to even begin, the studio is shifting its focus on this PSP game.
Aside from the studio, there is little I know about the project. I have no idea how good the game is though, given the record of game-to-anime adaptions, I doubt that would make much of a difference. The premise sounds pretty generic, but I doubt that would make it an unwatchable series. Even the staff information gives very little insight; the director has been with the studio for a little while and has directed some of their works.
It's probably worth checking out, given the studio's great record on visuals. How the story will turn out, is anyone's guess.
Anticipation Level: Medium(?) - Don't know enough to form a definitive opinion.
Himouto! Umaru-chan
[Studio: Dogakobo Source Material: Manga]
Premise: A girl who goes from being perfect to little otaku-ish glutton.
Thoughts: Yeah... I'm gonna go ahead and pass on this one. It's a Dogakobo comedy series with the director of Yuri Yuri and a source material that just isn't funny to me - believe me, I actually checked out the manga.
My guess this anime will appeal to the fans of the studio's comedy works, but not to many outside of that group.
Anticipation Level: None - Not going to even bother with this series.
Jitsu wa Watashi wa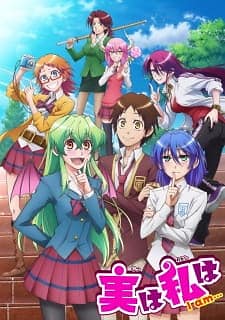 [Studio: TMS Entertainment Source Material: Manga]
Premise: Teen vampire romantic comedy.
Thoughts: This could turn out to be a pile of crap or it could turn out to be a decent watch. The premise is nothing new and romantic comedies can go south pretty quickly, but the studio in charge is often is (unfairly) overlooked. TMS Entertainment has been one of the more underrated studios, putting out some very enjoyable series in the last three years and a series like this one is right in their wheelhouse - they did Kamisama Kiss after all.
The director in charge has experience with comedies, having directed both Ika Musume and Servant x Service. What's left is the source material, which is more of a mystery. The first chapter reads more like a romance series than a comedy, but it definitely left some room for the comedy to play a bigger role in the future. In any case, I do hope they get the balance right and make the series work.
Anticipation Level: Medium - I like the studio and the director, now it falls to the source material to deliver.
Joukamachi no Dandelion
[Studio: Production IMS Source Material: Manga]
Premise: A King's nine children fighting it out for the right to succeed him under the watchful eye of 200 cameras.
Thoughts: In all honesty, this is another series that could turn out crap or relatively well. The source material is a manga that runs in a Manga Time Kirara magazine, which is hardly a selling point given the type of manga they usually publish - think K-ON!. However, I have not been able to find the manga online and according to Mangaupdates, so far it only has two volumes.
Adding to the uncertainty is the studio itself. Production IMS has only Date A Live and Inari, Konkon to their name. That doesn't give much indication as to how the series will turn out. In fact, the most solid positive signal is that the director and writer are the same team that brought us the Bakuman franchise, which was very well done.
The staff is perhaps the reason I have some moderate expectations for this series. Just the magazine in which the manga runs would have been enough to deter me had the staff not been so impressive.
Anticipation Level: Low-Medium - The Bakuman team boosts the appeal but only so much.
Kangoku Gakuen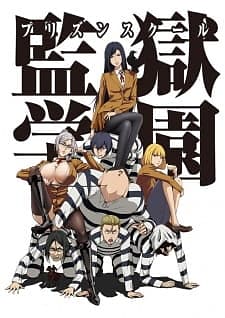 [Studio: J.C. Staff Source Material: Manga]
Premise: Boys in an all-girl school imprisoned and guarded by the female student council.
Thoughts: Oh dear lord, this actually got an anime. Many manga readers will tell you that Prison School has gained considerable popularity, but whether it deserves that popularity is debatable since the content in most chapters would easily be classified as NSFW. It's also very surprising that J.C. Staff are the ones adapting this series, considering what they have done in the past.
As someone who read a good few chapters of the manga, I'm curious as to how the adaption will go. My biggest problem with the series is that the story is actually pretty good but it's often overshadowed by the sheer amount of ecchi each chapter has - bordering on hentai on a near-weekly basis. How the studio handles it is what I'd like to see most. They have at least given the task to a very capable director and writer, a duo who worked together on Genshiken and xxxHOLic, which could mean the adaptation turns out very well.
For me, a toned-down version of the manga could be an enjoyable watch. That said, I'm still more interested in the other series.
Anticipation Level: Low-Medium - Depends on how it is adapted.
Kuusen Madoushi Kouhosei no Kyokan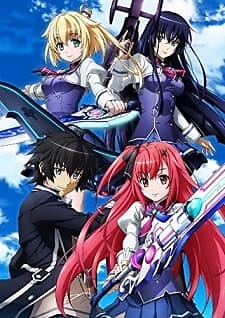 [Studio: Diomedea Source Material: Light Novel]
Premise: Magic, future and harem.
Thoughts: There's always at least one harem anime with magic set in the future each season. It's an unwritten rule that there just has to be one. So, if that type of anime floats your boat - your not alone, believe me - this is the anime for you. And of course it makes sense that a studio like Diomedea is the one producing the series.
Not to rag too much on the studio, but adapting light novels of all stripes is what they do. As such, I've never had any attachment to the works they've put out with the exception of Ika Musume. Even without them in the picture, the staff itself is not inspiring any interest in the lest. The director and writer each have thin resumes, but I doubt that would make much difference for this series.
I'll be skipping this one altogether.
Anticipation Level: None - Don't feel like watching a harem magic anime adapted from an LN.
Monster Musume no Iru Nichijou
[Studio: Lerche Source Material: Manga]
Premise: Inter-species dating is a forbidden fruit.
Thoughts: Without having read a single chapter of the manga, I can't say whether this is a funny series or the closest you can get to turning a blind eye to bestiality... Whatever the case, this is definitely Lerche's weakest (of three) offering for the summer 2015 anime season; story-wise and staff-wise, it's the equivalent of the project you give your idle staff to keep them busy.
The director Tatsuya Yoshihara is still relatively new, having participated in the Anime Mirai project in 2013, and has since then only directed one anime. So far his work has not been impressive, leading me to believe that this project's best shot lies with its writer Kazuyuki Fudeyasu. He's far from perfect himself, but he at least adapted B gata H kei and Ben-To. Unfortunately, that's not enough to get me remotely interested in this anime.
I'll take a pass.
Anticipation Level: None - A combination of all factors has me completely uninterested.
Overlord
[Studio: Madhouse Source Material: Light Novel]
Premise: SAO but dark?
Thoughts: Et tu Madhouse? Et tu? Why did you go there when your expansive talents could have been used on so many more deserving, interesting projects? Yes it's deeply disappointing that Madhouse would betray my trust by adapting a light novel with a premise so identical to SAO. The only difference I can spot is that the main character starts off in a powerful form.
The studio doesn't even seem to be taking this adaptation too seriously. The director hasn't worked since 2006 and the writer in charge of composition is a complete newcomer, which begs the question: why even put this out there when it doesn't look like you are putting in the effort? The studio may have been better off just skipping this season.
Truly disappointing.
Anticipation Level: None - No way I'm watching something so unimpressive from a studio that knows better.
Ranpo Kitan: Game of Laplace
[Studio: Lerche Source Material: Edogawa Ranpo's Works]
Premise: Mystery detective and his middle school assistant
Thoughts: I've got to give credit to both Lerche, for veering into unknown territory, and the noitaminA folks for giving the slot to a series that resembles the types of works that used to be featured in the timeslot. Edogawa Ranpo was the founding father of the Japanese mystery/detective genre, and while I doubt this anime will follow his works closely, just using his works as a starting point should be beneficial to the series. A good mystery series is always appreciated, given how few are made, so I'm hoping for a repeat of UN-GO in terms of quality.
That may not come true if my biggest worry for the series comes to fruition: the director-writer team. Seiji Kishi as a director can be bi-polar when it comes to the quality of his anime, and unfortunately his teaming up with Makoto Uezu has taken me aback. Uezu's resume is comparable to Kishi's and what's more the duo's collaborations have been either excellent or plain bad. I'm hoping since they have better material to work with, that they deliver another excellent to break their current streak of losers.
Even with this major concern; Ranpo Kitan is still one of my most anticipated anime.
Anticipation Level: High - A mystery series with good basis for adaptation. Let's hope Kishi and Uezu don't screw the pooch on this one.
Rokka no Yuusha
[Studio: Passione Source Material: Light Novel]
Premise: Middle-ages fantasy
Thoughts: The little-known studio Passione, whose sole full-length anime series thus far is the widely-panned Rail Wars is back again with another stab at a genre that just hasn't seen good series in recent years. Middle-ages fantasy anime haven't had a good run as of late, with series like Maoyuu Maou Yuusha not delivering and with the better series being focused mostly on the action. It's a pity because there could really be an appetite for another good fantasy work not centred around action sequences.
That said, this anime is unlikely to be that. The director, Takeo Takahashi, may have done Spice and Wolf once upon a time but since then his works have failed to gain recognition - including Maoyuu. That makes me think the source material did most of the heavy lifting, meaning that even with an experienced writer this series is unlikely to amount to anything worthwhile.
It's a shame but the genre will have to wait a little longer for a savior.
Anticipation Level: None - Nothing here that evokes any interest.
Shimoneta to Iu Gainen ga Sonzai Shinai Taikutsu na Sekai
[Studio: J.C. Staff Source Material: Light Novel]
Premise: A student group fights against censorship with obscenity.
Thoughts: With this as their second anime for the season, J.C. Staff have officially decided to be raunchy for the summer. This time, instead of a serious premise loaded with misplaced ecchi, they've chosen a light novel with a pretty ridiculous premise and intended ecchi (I'm guessing). Maybe they just got tired of doing slice-of-life and romance series?
It would be easy to write off this series as unwatchable drivel - I came to close to it just from the reading the synopsis - but there are a few things that keep me a little interested. Firstly, for all the whiny complaints aimed at them, I actually like J.C. Staff and a good deal of their works. Secondly, the one in charge of adapting the script, Masahiro Yokotani, has a resume studded with high-profile comedies like Beelzebub, Maria Holic and Hataraku Maou-sama!. For that reason I'm willing to put aside the director's inexperience and overlook the absurd sounding premise to give the series a shot.
Will it be a masterpiece? Very unlikely. I'm just hoping for a decent comedy.
Anticipation Level: Low-Medium - The writer gives this is series a shot.
Sore ga Seiyuu!
[Studio: Gonzo Source Material: 4-koma Manga]
Premise: Three rookie voice actresses.
Thoughts: Remember when Gonzo was force in anime? I don't think anyone does anymore based on their past four years and this series is just another reminder at the herculean fall of a great studio. To makes things worse, this is their first work of the year and the only one of the season.
There really isn't much to get excited about here. The studio has lost its clout, the director is someone new and unknown and the source material is a big unknown. The brightest spot in this project is season writer Michiko Yokote, who is no stranger to adapting comedy series. Adapting a 4-koma is never easy, and she could probably pull it off but I doubt the source material is so good enough - it's not gonna be a Bakuman or even Shirobako level expose on the seiyuu industry.
Anticipation Level: Very Low - I may check out the first episode, if I can muster the effort.
Ushio to Tora
[Studio: MAPPA/Studio VOLN Source Material: Manga]
Premise: A young boy and his tiger spirit go on battle adventures.
Thoughts: So this is an interesting choice from the already interesting studio MAPPA. They are bringing back a manga that ran between 1990 and 1996, and already had a ten-episode OVA made between 1992 and 1993. Something that's heartening is that this will be a three-cour adaptation - Wikipedia has it at 39 episodes, though that may not be accurate - which is a good call, given the 33 volumes of the manga that exist.
The anime also seems to have a great staff at the helm. Satoshi Nishimura, who went to MAPPA to direct the latest Hajime no Ippo, will lead and Toshiki Inoue will handle the series composition. Nishimura was also the man behind Trigun and luckily Inoue has adapted older works like the second season of Ranma 1/2 as well as a few others. Their involvement makes this look like one of the best upcoming series, especially for those like me who are enjoying the old-school revival.
Anticipation: High - Classic manga, good staff and MAPPA. That's a winning combination.
Working!!!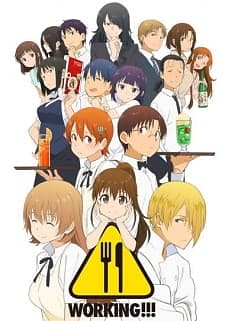 [Studio: A-1 Pictures Source Material: Manga]
Premise: Season 3 of the lives of the restaurant workers.
Thoughts: It's so nice to have Working!! back after nearly four years. It's a great comedy series with an endearing and hilarious cast that has delivered with pretty much every episode of both seasons. The manga ended in November of last year, so we are might be looking at a full adaptation of the manga, which is possible since the chapters are shorter but will also require skipping some chapters.
The director for this season has changed, which is a shame but luckily the second season's writer will still be there to adapt the manga. Given that we've already had two seasons, and the second season didn't suffer in quality with staff changes, I don't see the need to be worried. The formula and style have already been set, and now its just a matter of seeing the story till the end - or at least as far as possible - and not screwing it up.
In all honesty, I'm just glad this series is back!
Anticipation Level: High - A sequel that I actually know about and can't wait to watch!
Summer 2015 Anime Summary
There are definitely a number of series that I'll be avoiding altogether, but a few do stand out as the top tier and others have potential to surprise us. To summarize, here are the tiers rankings for the series listed above:
Top Tier - Durarara!!x2 Ten, Gangsta., Ranpo Kitan: Game of Laplace, Ushio to Tora, Working!!!, Gatchaman Crowds Insight
Second Tier - Akagami no Shirayuki-hime, Aoharu x Kikanjuu, Gakkou Gurashi!, God Eater, Jitsu wa Watashi wa
Third Tier - Chaos Dragon, Joukamachi no Dandelion, Kangoku Gakuen, Shimoneta to Iu Gainen
Bottom Tier - Aquarion Logos, Charlotte, Classroom Crisis, Gate, Himouto! Umari-chan, Kuusen Madoushi, Monster Musume, Overlord, Rokka no Yuusha, Sore ga Seiyuu!